Why study this course
Three FREE years of membership to our Sport & Fitness Centre, gym and facilities for all BGU undergraduate Sport students
We have extensive links with external partners and opportunities for work experience, volunteering and coaching
Study university Mathematics through inspiring sessions and highly interactive workshops. Small group teaching is delivered by enthusiastic academics passionate about teaching.
Outstanding support is provided to develop highly demanded skills in teaching and other careers. We offer exciting Mathematics projects such as outreach work in schools, digital newsletter, and mentoring schemes.
Course summary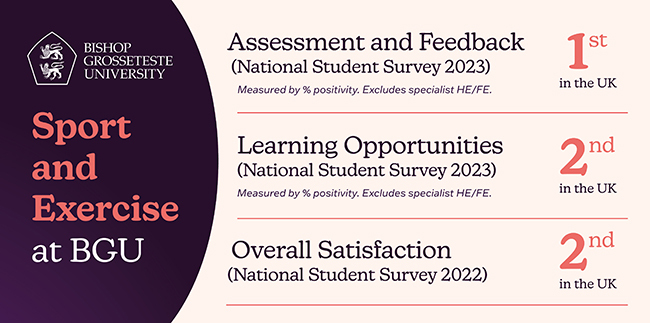 During the study of Sport at BGU you will gain understanding in the complexities of this subject, including; the development of sport; how performance can be enhanced and how it can be managed and led. This course is designed to develop your knowledge and understanding of the sport, physical education, learning and teaching and education.
Mathematics is vital in modern society, underpinning our understanding of the sciences, engineering, technology, finance and many other aspects of our everyday lives. Mathematics graduates are in short supply and we aim to provide you with the tools you need to make a real difference in the world and to those around you.
Key facts
---
| | |
| --- | --- |
| Award | BSc (Hons) |
| UCAS code | CG6C |
| Duration | 3 years |
| Mode of study | Full-time |
| Start date | September |
| Awarding institution | Bishop Grosseteste University |
| Institution code | B38 |
Course details
About this course
---
Sport
Our dynamic Sports courses are designed around three specific areas - Physical Education, Sports Coaching and Sports Development. As your course progresses you can choose to specialise in a particular area, giving you as much freedom as possible to explore your personal interests.
Alongside these three areas, you can expect to cover contemporary themes that develop from year to year. You'll explore the effects of exercise on the body, looking at a range of physical activities in different social groups – from high-level sports performers to young children. As you'd expect, this course also contains a great deal of hands-on experience, where you'll learn how to use your skills to inspire others to be more active and to excel at sport and exercise.
You'll be researching and interrogating recent issues and looking at conflicting ideas and opinions on this undergraduate degree, as well as being encouraged to hone your coaching, leadership and teaching skills through practical exercises, field trips, laboratory work and placement opportunities. In Sport, we think you should experience intellectual excitement and enjoyment, knowledge and practical skills relevant to your chosen career and as much freedom as possible to explore your personal interests.
Here at BGU in Lincoln employability is central to our courses, so we'll support you to find a placement that is tailored to your career aspirations for the future. You'll also have the chance to gain coaching qualifications and to volunteer in sport across the county – our links with local sports partnerships and governing bodies provide unique work and career opportunities that you won't find anywhere else.
If you have a passion and commitment to sport then this is the course for you. Come and join us to research and debate recent and topical developments and conflicting values and ideas about sport and physical education.
Mathematics
We want students who ask questions and discuss ideas so that you develop confidence in solving problems and thinking mathematically. We encourage you to understand and enjoy mathematics rather than memorise rules and procedures. We teach mathematics mainly through group workshops and offer a learning experience that is very different from larger universities.
Mathematics at BGU will not only develop your mathematical and practical skills and your understanding of teaching, learning and education; it will also allow you to share your enthusiasm to inspire others. With the support of dedicated and professional staff, you will study numerous aspects of both pure and applied mathematics and, in doing so, gain a good overall appreciation for the subject. We'll help you to develop a detailed knowledge and deep conceptual understanding of a range of mathematical topics including complex numbers, matrices, algebraic techniques, algorithmic methods, probability and calculus. You'll also learn how to apply your work to practical situations, using appropriate mathematical tools and technology to aid with real-life problem-solving.
You can be sure you'll receive all the support you need. We have experienced and dedicated staff who are passionate about mathematics and will work extremely hard to transmit that enthusiasm to you. This course is ideal if you take satisfaction from solving problems and would love to pass on your enthusiasm to others.
What you will study
Students on this course currently study some or all of the modules listed below. However, these modules are currently under review and may differ for September 2023 entry.
This module will include a study of the nature of sport in education and will provide an introduction to the application of Physical Education (PE) in a variety of educational settings. You will be introduced to key issues in PE such as inclusion, assessment, cross-curricular learning, citizenship and lifelong learning.
During this module, you will gain theoretical and practical understanding of the physical, social and psychological benefits of physical activity for young people. Through investigating physical activity prescriptions, levels and key exercise interventions, you will also gain a breadth and depth of understanding of the barriers young people face towards exercise and physical activity.
Complex Numbers and Matrices are introduced in this module and a study of their basic algebraic and geometric properties follows. The existence of complex numbers is first established via the solution of quadratic equations, where no real solution can exist, and this study is extended to apply the Fundamental Theorem of Algebra in the more general solution of polynomial equations.
This module focuses on developing your knowledge and understanding of algebra and graphs through various applications of ICT. Studies of algebraic sequences and inequalities are used to introduce you to abstract notation and to facilitate practice with core algebraic skills, and this is then used to inform a study of infinite series and to establish the notion of "convergence".
You will learn about the evolution and development of the PE National Curriculum, lesson planning, practical organisation and differentiation in the physical environment. The module aims to introduce a range of teaching strategies, which can be used in PE and will provide the opportunity for you to create an appropriate teaching environment for learners to acquire physical, emotional and social skills.
During the course of this module, you will learn about the theories of sports development and will explore and evaluate policies that guide its direction. Leadership within local authorities, governing bodies and voluntary organisations will be examined alongside the practicalities of policy implementation at a national, regional and local level.
This module is deliberately structured in an open-ended way to allow placements and/or projects to be developed which are most suited to your potential future career. Working with your appointed tutor, you will be allocated an appropriate placement or project which will enable you to meet the learning outcomes and to have a valuable experience of a real-life work-related situation.
This module seeks to extend your knowledge and understanding of differential calculus into two and three-dimensional space. The basic notions of rate-of-change, derivative and integral are revisited algebraically from first principles, and various key results are then extended to apply in two and three dimensions to provide you with a visual awareness of how these concepts apply to the physical world.
General concepts of mathematical modelling are introduced, which enables you to construct appropriate empirical models and to make predictions about real world phenomena. Fundamental laws of conditional probability are applied to appropriate probabilistic modelling situations, including Bayesian processes and Markov chains.
Core lectures and the seminar/workshop sessions will examine different aspects of quantitative enquiry, including, for example: the meaning of statistical data, raw data extraction and manipulation, correlation and deviation, inference and interpretation and graphic representation. You will consider the design, relevance, application and value of particular quantitative and statistical methods in relation to applied, global issue study contexts.
Through analysing different types of sport and exercise activities, you will be able to apply physiological and psychological principles to practical situations ranging from exercising for health to physical training for enhanced athletic performance. You will have opportunity to work in groups and will conduct an investigative project to examine the reliability and validity of a specific measurement protocol or technique.
This module will include a study of the contemporary social, cultural, political and ethical issues in sport and physical education. The focus of the module will vary according to changing issues in the sporting world, and you will be given the opportunity to explore, research, discuss and critically evaluate a particular contemporary issue from within your chosen theme.
The module will focus on equipping you to undertake an ethically approved research project. During this module you will follow your methodology, carrying out data collection before performing the analysis and discussion of results, resulting in a sustained piece of work.
This module continues the theme of applying mathematics to real world phenomena, but extends the models to employ more advanced mathematical methods of Differential Equations. You will engage in various individual or group projects, where appropriate models are designed and applied in a number of physical situations.
You will research a number of current issues in mathematics education, including the appropriate application of ICT, common mathematical errors and misconceptions, active engagement strategies, developing programmes for learning, on-line resources and up-to-date curricular influences. Research findings are imparted to the main student group through student-led seminars, and for the purposes of practical work, you will critically analyse your own teaching and that of peers in practical teaching situations, as appropriate.
This module will focus on equipping you to undertake a small–scale research project. The specific topic is chosen in consultation with your supervisor; this is usually an aspect of the historical development of mathematics or some modern application.
Entry requirements
You will normally need 96-112 UCAS tariff points (from a maximum of four Advanced Level qualifications).

You will also need A-Level Mathematics at grade D or above. We welcome a range of qualifications that meet this requirement, such as A/AS Levels, BTEC, Access Courses, International Baccalaureate (IB), Cambridge Pre-U, Extended Project etc.
However this list is not exhaustive – please click here for details of all qualifications in the UCAS tariff.
How you will be taught
There is no one-size-fits-all method of teaching at BGU – we shape our methods to suit each subject and each group, combining the best aspects of traditional university teaching with innovative techniques to promote student participation and interactivity.
You will be taught in a variety of ways, from lectures, tutorials and seminars, to practical workshops, coursework and work-based placements. Small group seminars and workshops will provide you with an opportunity to review issues raised in lectures, and you will be expected to carry out independent study.
Placements are a key part of degree study within many courses at BGU. They provide an enriching learning experience for you to apply the skills and knowledge you will gain from your course and, in doing so, give valuable real-world experience to boost your career.
Academic staff
Assessment
Sport
In Sport, we use a variety of imaginative approaches to assessment that enable you to utilise your strengths. Over the course of your studies, you could expect your assessment to include presentations, multimedia reports, displays, portfolios, individual research projects, essays, exams and work in the Human Performance Laboratory. We recognise that individuals come from a wide range of backgrounds and experiences, and accordingly use a wide range of assessment strategies. You can expect to be guided and supported carefully in your first year, gradually becoming more independent as the course progresses.
Mathematics
Assessment in Mathematics comes in a variety of forms depending on the nature of the particular module. This will enable you to build on your experience of assessment at school or college and develop further strengths in analysing and communicating mathematical arguments. Theoretical aspects are usually assessed by coursework or examination, while the more practical modules are assessed by portfolio or presentation. Taught sessions mainly involve interactive-style seminars and workshops, during which you will often work with other students. This style of working offers informal assessment opportunities and will enable you to gauge your own progress and access help if required.
Careers & Further study
Sport
In Sport, we prepare you for a broad range of sport-related jobs in such areas as sports development, adventure education, physical activity and health, sports coaching, fitness and recreation industry, school sports coordination, armed forces, youth work and postgraduate research.
By the end of the course, you will have developed a range of practical and transferable skills that are underpinned by excellent subject knowledge, meaning you will be well-prepared for your chosen future career. In the past our graduates have begun careers as sports coaches, personal trainers, as physical education teachers (primary and secondary), in the field of youth work or within sports development.
Mathematics
Graduates of this course are highly marketable individuals; mathematicians are in high demand! With this degree you will acquire extremely valuable transferable skills such as analytical and problem-solving skills which will boost your employability. Most of our students apply to join our primary or secondary PGCE courses here at BGU, however, you could go onto further study for a Master's degree or choose another career pathway. Mathematics graduates have a wide range of career options, such as Business and Finance, Science and Engineering, Research and Educational Management. Possible future careers may include Engineering, Statistics, Lecturing or Research and development. Having Mathematics as part of your degree will make you immediately stand out!
What Our Students Say
Discover what life is like at Bishop Grosseteste University from our students.
Support
Studying at BGU is a student-centred experience. Staff and students work together in a friendly and supportive atmosphere as part of an intimate campus community. You will know every member of staff personally and feel confident approaching them for help and advice, and staff members will recognise you, not just by sight, but as an individual with unique talents and interests.
We will be there to support you, personally and academically, from induction to graduation.

A lot of student finance information is available from numerous sources, but it is sometimes confusing and contradictory. That's why at BGU we try to give you all the information and support we can to help to throughout the process. Our Student Advice team are experts in helping you sort out the funding arrangements for your studies, offering a range of services to guide you through all aspects of student finance step by step.
Click here to find information about fees, loans and support which will help to make the whole process a little easier to understand.
Undergraduate course applicants must apply via UCAS using the relevant UCAS code. For 2023 entry, the application fee is £27, and you can make a maximum of 6 choices. For 2024 entry the application fee is £27.50.
For all applicants, there are full instructions at UCAS to make it as easy as possible for you to fill in your online application, plus help text where appropriate.
Related Sport and Mathematics news