Why study this course
Learn about the range of core psychological domains and methods, accredited by the British Psychological Society (BPS)
Learn about and engage with on-site research projects, exploring contemporary issues such as mindfulness, psychopathy and the science of dreaming
Three FREE years of membership to our Sport & Fitness Centre, gym and facilities for all BGU undergraduate Sport students
We have extensive links with external partners and opportunities for work experience, volunteering and coaching
Course summary
If you don't have, or don't think you will attain, the normal tariff points for studying at BGU, this course will enable you to study for a degree without any UCAS points. The course is delivered over four years and includes a Foundation Year, which gives you a perfect introduction to what it means to be a university student and prepares you for effective undergraduate study. In your Foundation Year, you will study eight modules, all of which are designed to equip you with the necessary academic skills and knowledge to progress successfully in your chosen subject. You will also engage in a series of bespoke subject sessions delivered by experts, designed to introduce you to your chosen subject area.
Find out more about our Foundation Year programme.
Through studying a Psychology degree at BGU you'll gain an in-depth understanding of the scientific nature of the subject and of its wider cultural and social impact. This course will develop your understanding of psychology and its theories of the mind, emotions and behaviour and become familiar with how these theories are applied in our lives, communities and societies.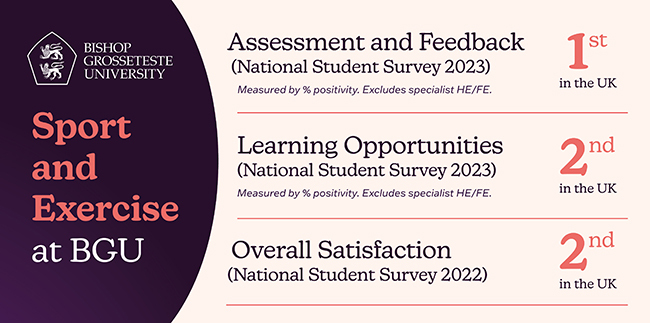 During the study of Sport at BGU you will gain understanding in the complexities of this subject, including; the development of sport; how performance can be enhanced and how it can be managed and led. This course is designed to develop your knowledge and understanding of the sport, physical education, learning and teaching and education.
Key facts
---
| | |
| --- | --- |
| Award | BA (Hons) |
| UCAS code | CC8F |
| Duration | 4 years |
| Mode of study | Full-time |
| Start date | September |
| Awarding institution | Bishop Grosseteste University |
| Institution code | B38 |
Course details
About this course
---
Psychology
Do you ever wonder why is it we behave as we do? How do gangs, teams and friendship groups form? Do you wonder if smiling really does make you feel more positive? Do you often venture into the bigger questions about life and who we are?
Psychology has a science base, yet includes a balance of liberal arts, technological knowledge, statistics and computer-based skills. As well as classic psychological theories and research, on this undergraduate degree you'll be debating social issues, studying specific mental processes, such as memory, language and attention, as well as broader issues and theories – both historical and contemporary. As well as applying psychological knowledge to a range of subjects, you will develop your skills in problem-solving, data analysis, predict and reasoning, with a focus on real-world application.
Here at BGU in Lincoln, we ensure you have close support and contact with your tutors and, with small group sizes, you'll always get the support and feedback you need on your course. We also know how important it is to experience a real working environment so, through work placements and other projects, you'll be equipped for whichever career path you may choose after your degree. With research-informed teaching and research-active staff, you'll receive scientific training and gain an in-depth understanding of the nature of the subject, at the same time as applying your knowledge and theory to real-life.

Sport
Our dynamic Sports courses are designed around three specific areas - Physical Education, Sports Coaching and Sports Development. As your course progresses you can choose to specialise in a particular area, giving you as much freedom as possible to explore your personal interests.
Alongside these three areas, you can expect to cover contemporary themes that develop from year to year. You'll explore the effects of exercise on the body, looking at a range of physical activities in different social groups – from high-level sports performers to young children. As you'd expect, this course also contains a great deal of hands-on experience, where you'll learn how to use your skills to inspire others to be more active and to excel at sport and exercise.
You'll be researching and interrogating recent issues and looking at conflicting ideas and opinions on this undergraduate degree, as well as being encouraged to hone your coaching, leadership and teaching skills through practical exercises, field trips, laboratory work and placement opportunities. In Sport, we think you should experience intellectual excitement and enjoyment, knowledge and practical skills relevant to your chosen career and as much freedom as possible to explore your personal interests.
Here at BGU in Lincoln employability is central to our courses, so we'll support you to find a placement that is tailored to your career aspirations for the future. You'll also have the chance to gain coaching qualifications and to volunteer in sport across the county – our links with local sports partnerships and governing bodies provide unique work and career opportunities that you won't find anywhere else.
If you have a passion and commitment to sport then this is the course for you. Come and join us to research and debate recent and topical developments and conflicting values and ideas about sport and physical education.
What you will study
As a student on this course, you may study some or all of the modules listed below.
In this module you will explore and consider what it means to be a successful learner at university. You'll explore the principles of effective learning and engage with a range of tools and techniques to practise and develop strategies for your own learning. These include for example, understanding your needs as a learner, effective time management and organisational skills.
You will learn about a range of resources and practise locating and using these resources to support effective learning. These resources will include, for example, textbooks, websites, academic journals, and popular press. In addition to these key techniques, the module covers academic conventions including referencing, citation and the risks of plagiarism.
This module will allow you to learn to utilise sources in a considered and critical way. You will begin to engage effectively with literature and other sources in a meaningful manner that promotes deep learning and enables knowledge and understanding of a topic. You will also begin to differentiate qualitative and quantitative data and consider their appropriate interpretation and use.
Critical thinking is an integral part of university study. While studying this module you will define critical thinking, its importance and how it can help you in your learning. A range of critical thinking models will be utilised to demonstrate how this works in action, allowing you to recognise critical thinking and identify barriers and challenges.
The skilled use of digital technologies is an important element in university study and is used to support both the obtaining and demonstration of knowledge. This module will develop your digital capabilities and confidence, encouraging you to develop techniques for the purposeful use of a range of digital tools to support learning. These include specific tools such as the Virtual Learning Environment and appropriate and effective uses of wider applications such as social media, email and the internet.
This module explores, compares and evaluates a range of communication types, giving you opportunities to combine written and spoken communication in a range of contexts and for a range of audiences. From a theoretical, sociological perspective you will explore different communication media and styles of discourse, for example, discussion, debate, enquiry and reporting.
Reflection is a powerful learning tool that enables you to consider your existing knowledge and also to plan for your future learning and professional development. The module content includes the principles of reflective learning and collaborative planning with reference to structured models.
Academic writing is an essential element of successful university study, so this module explores a range of techniques to help develop your own academic writing style. It will enable you to draw together your learning throughout the Foundation Year and reflect on the feedback you have received. You will structure a clear and effective piece of academic writing on a subject-linked topic in which you will apply standard academic conventions.
This module will introduce you to core areas and methods integral to the discipline and study of psychology. It will provide a historical and contextual backdrop to psychology as a scientific discipline, as well as a focus on research methodologies. This module will introduce you to the wonderful world of numberland, where you will embark on a quantitative journey through research methods and statistical techniques. It will equip you with the tools necessary to investigate questions you may have about human psychology, and to do it in a robust and scientific manner. It will explore aspects of research design, underpinnings of statistical theory, as well as core statistical techniques such as t-tests and correlation. It will analyse data using statistical software and interpret related output appropriately. This module will also provide an introduction to qualitative research methods, where you will be introduced to a range of applied qualitative methods in psychology, the core philosophical underpinnings of such techniques, as well as its relation to quantitative methods.
The module will provide you with an understanding of developmental psychology across the lifespan, exploring physical development, cognitive development, social and emotional development throughout childhood and later into maturity. You will gain a deeper understanding of the theories, themes and concepts in developmental psychology and appreciate that development continues throughout the lifespan and is influenced by a range of factors including class, culture, gender, ethnicity and heredity. In addition, you will learn about the current issues and methods involved in lifespan research, together with specific empirical studies that address developmental research questions and contemporary and cross-cultural developments that have emerged in the field.
This module will immerse you in the origins of psychology, with respect to early understandings of what psychology is (Plato; Aristotle), as well as the development and establishment of Psychology as a discipline in its own right. You will be introduced to the history of science and the Scientific Revolution, as well as corresponding developments in metaphysics and epistemology as manifested in The Enlightenment, and how this contributed to the emergence and shaping of psychology as an experimental science from which behaviourism and the cognitive revolution later emerged. This context will enable you to understand debates within psychology that concern it's standing as a science and the differences in psychological research methodologies that accompany those debates. Focus on the historicisation of psychology will prompt you to evaluate your perceptions of Psychology and how you, and society understand and identify with it in both professional and personal settings. Furthermore, "classic" studies in psychology will be explored in reference to recent research that demonstrates issues with their findings, especially in the context of the current replicability crisis in Psychology.
This module sets out to combine an academic study of the relations between sport, education and society, with a pragmatic desire to explore sport in formal and informal learning environments. It will promote inquiry into the implications of the curriculum for teaching and learning of sport and will begin to develop required skills and knowledge of appropriate teaching strategies in preparation for further development. Teaching and learning will proceed by way of interactive lectures, practical work, tutorials and seminars. These will introduce key concepts and develop your understanding of sport in education. Practical activities and tutor-led workshops will provide opportunities for you to observe and assist in teaching and learning of sport. A number of directed tasks are incorporated, including data collection, independent reading, presentation and discussion. Online support and discussion through the VLE will be available and shared reflection will be encouraged through your contribution to a blog. The syllabus will include a study of the nature of sport in education and will provide an introduction to the application of Physical Education (PE) in a variety of educational settings. You will be introduced to key issues in PE such as inclusion, assessment, cross-curricular learning, citizenship and lifelong learning. Sport will be placed in context of the National Curriculum for PE and you will examine real case studies of how sport education has been used in both primary and secondary PE. You will also have the opportunity to explore and develop knowledge and understanding of strategies aimed at making the sport experience positive and meaningful to all individuals.
This module will provide you with an overview of the influence of physical activity on health and wellbeing in young people. The module will explore the main cultural, political and ethical issues surrounding physical activity and will introduce methods of promoting physical activity to young people. Tutor-led workshops both in the Sports Hall and Human Performance Lab (HPL) will introduce and develop the varied practical and analytical skills required to complete the module successfully. A number of directed tasks are incorporated, including data collection, independent reading, use of VLE, presentation and discussion. The syllabus will explore current research on physical activity and young people in the UK and will examine current and previous levels of physical activity. You will gain theoretical and practical understanding of the physical, social and psychological benefits of physical activity for young people. In particular this module sets out to identify how young people develop their self-identities and how they accept or reject physical activity and sport in this process. Through investigating physical activity prescriptions, levels and key exercise interventions you will gain a breadth and depth of understanding of the barriers young people face towards exercise and physical activity.
Personality and Individual Differences is a multifaceted module that covers the history, cornerstone theoretical frameworks and methodological approaches of personality research. The structure of human personality is examined using a trait-based approach, which is applied in a variety of sub-topics leading to a comprehensive understanding of how personality and individual differences influence thought and behaviour in different settings. The contributions of biological and environmental factors in the development of personality and individual differences, as well as associated controversies are also explored. You will consolidate your learning by utilising psychometric methods to design and run a quantitative study in an area of personality research of your choosing. Accordingly, this module helps to prepare you for your third-year dissertation module in providing experience of the research process, from design, gaining ethical approval, data collection and analysis to reporting and discussing findings.
This module will develop your knowledge and understanding of social psychology, one of the core areas of psychology introduced in Researching Psychology I. Social Psychology will engage you with the breadth and diversity of social psychology as a discipline from social constructionism and group processes through to social cognition, collective behaviour, and social interactions. The purpose is to help you gain a detailed understanding of how people think, feel and act in relation to others and the world around them. Key topics will engage you with the indexical nature of the discipline locating historical and contemporary research and theory within its broader socio-economic and cultural context.
This module will build and extend on core methods and statistical techniques acquired at level 4 in Researching Psychology I. You will develop knowledge and skills integral to advanced psychological research designs, including the use of quantitative and qualitative analysis techniques. Specifically, this module covers three research methods strands including experimental, psychometric, and qualitative methods. Statistical underpinnings and application of techniques relevant to experimental (e.g., One-way ANOVA, Factorial ANOVA) and psychometric-based research (e.g., Regression, Multiple Regression) are covered and directly extend methods learnt in Researching Psychology I. Additionally, you will develop applied methods skills by utilising specialist software such as SPSS for the analysis of quantitative data. A variety of qualitative approaches, methods and analyses will also be considered such as interviewing skills, diaries and photo elicitation, discourse analysis, polytextual thematic analysis and descriptive phenomenology.
This module will further develop your knowledge and understanding of pedagogical approaches and skills and apply them to the teaching and learning of PE and sport. It will further explore issues related to the National Curriculum for the teaching and learning of sport. It will provide opportunities for you to acquire and apply knowledge of the principles and concepts of motor skill learning and performance. There will be opportunities to implement and evaluate a wide range of PE and sport related teaching resources and strategies. You will also have the opportunity to develop research and analytical skills in the selection of appropriate PE material and techniques for use in learning environments. The syllabus will include lesson planning, practical organisation, inclusion and differentiation in the physical environment, pedagogical approaches. These themes are explored through various physical activities and practical workshops. You will develop a detailed knowledge of the major theories and practice of teaching and learning through sport and PE. It aims to introduce a range of teaching strategies, which can be used in PE and coaching contexts, providing the opportunity for you to create an appropriate teaching environment for learners to acquire physical, emotional and social skills. You will be introduced to the principles of motor skill learning and related theories and how to apply the concepts of motor learning and performance to real-world settings of teaching and coaching. You will be required to identify relevant teaching and learning practices that will develop pupil knowledge and understanding of the activities in accordance with the National Curriculum in primary and secondary schools.
This module will investigate effective ways of promoting interest, participation and performance in sport. You will develop a critical understanding of theoretical and vocationally relevant issues for sports development in contemporary society. You will broaden your knowledge and understanding through working with a variety of guest speakers, in order to compare contrasting theories, viewpoints and complex arguments. An optional field visit will play a helpful role in understanding current practice in leadership and working with diverse populations. The syllabus will include an introduction to the historical development and promotion of sport and exercise in the UK. You will learn about the theories of sports development and will explore and evaluate policies that guide its direction. Leadership within local authorities, governing bodies and voluntary organisations will be examined alongside the practicalities of policy implementation at a national, regional and local level. You will investigate current development and promotional projects operated by organisations such as the Sport England, Active Lincolnshire, Youth Sport Trust and Lincoln City Council. This module will provide many opportunities for debate, analysis and enquiry, with you appraising the sports development continuum and evaluating the role of sports development and leadership at an individual, group and community level.
This module will allow you to further your knowledge of varying methods which can be used in Sport, Exercise and Physical Education to analyse a range of assessments. You will learn different techniques, depending upon the context of the chosen assessment. The module will raise awareness of the range of methods of analyses and allow you to determine the appropriate methods used. You will also gain an understanding of how to analyse any results and be able to present these in an appropriate manner. You must individually write a report, which will demonstrate your ability to carry out choose the appropriate method of analysis for a chosen example, whether this is in a sporting, exercise or physical education context.
This module will give you a detailed knowledge and understanding of how nutrition can influence health and exercise. You will apply your understanding of nutrition and how you could support an individual in differing contexts, whether this is for health benefits or to improve exercise or sporting performance. There will be an emphasis on theoretical and investigative work in being able to identify how differing food types affect the body, and how this translates into health and exercise. You will be expected to carry out research to demonstrate an awareness of the effect of certain nutritional elements influence health and exercise performance and be able to prescribe a chosen individual nutritional advice on how to improve health or aid exercise or sporting performance. A number of directed tasks are included to support the development of you and aid progression, knowledge and understanding.
The Dissertation requires you to work independently in producing a substantial piece of research that demonstrates mastery of academic knowledge and research skills commensurate with Level 6. You will draw on your existing repertoire of experience garnered over the course of the degree in the development of a report akin to a journal style article, representative of the discipline. You will initiate your research protocol as defined in the first semester module, Research Project Design, and subsequently manage participant recruitment, data collection, and data analysis in accordance with the BPS Code of Ethics and Conduct. The Dissertation should aspire to produce published articles in the discipline (corresponding to the subject topic). The design of the study should successfully address the research question such that data collection and data analysis provide meaningful insight into the identified gap in the literature. You are expected to thoroughly scrutinise the findings in relation to relevant theoretical and methodological issues and in doing so, produce a meaningful contribution to the literature.
This module focuses upon the BPS Core domain Biopsychology, covering aspects of the biological basis of behaviours, emotions and mental health. The module aims to provide an overview of how the sub-disciplines within biopsychology (e.g., neuropsychology, cognitive neuroscience) approach psychological research questions. The module will support development of an in-depth understanding of neural conductance and major brain structures/systems to particular neurotransmitter systems as explanations of how the brain affects behaviour. The module aims to develop your understanding of the anatomical and physiological processes that underpin psychological experience whilst exploring the methodologies used to examine contemporary issues in biopsychology. To achieve these aims, the module will enable you to critically examine how contemporary biopsychological models are developed and evaluate these as explanations for behaviour using key examples (e.g., emotions, memory and learning, drugs and addiction and mental health disorders). This module promotes the application of multiple perspectives (including knowledge gained of other domains in previous years) to critique biopsychological theory and to critically appraise information, using evidenced based reasoning.
This module develops knowledge and understanding of the BPS core domain of Cognitive Psychology which you will have been introduced to at level 4 in Researching Psychology I. Throughout this module, there will be discussion and critical evaluation of a range of different cognitive psychological constructs (e.g., processing resources, attention, memory, language) as a toolkit for theorising mental functioning. You will critically engage with core constructs in cognitive psychology, associated methodologies and key perspectives (for example cognitive neuropsychology, neuroscience, fundamentals of the experimental method). Throughout the module, the use of computerised experimental paradigms will be explored, which underpin theories. For example, you will have the opportunity to engage with classical experimental paradigms or paradigms with a cognitive basis such learning, memory and problem-solving computerised tasks, within workshop sessions. The module aims to showcase the breadth of approaches to understand cognitive processes whilst critically engaging you with relevant associated methodologies. You will have opportunities to engage in a variety of cognitive experiments to facilitate your understanding of key topics and experimental approaches.
The module provides an opportunity for you to build upon and apply the key intellectual, transferable and practical skills gained at Levels 4 and 5 of the programme in order to design an appropriate research project for your Psychology dissertation. Throughout the module a series of lectures, seminars and workshops will further develop your research design skills in experimental, quasi-experimental, surveys and/or qualitative research methods. In addition, you will develop a critical understanding of ethical challenges associated with carrying out psychological research leading to the development of a research project that adheres to the British Psychological Society's Code of Ethics and Conduct (2018) and BGU's Research Ethics Committee standards.
This module will enable you to develop further knowledge of how to conduct effective measurement techniques. The module will build on concepts and issues introduced elsewhere in the course and will involve you in the measurement and evaluation of a number of parameters of kinanthropometry in a laboratory setting. You will be provided with opportunities to work in groups to develop further competence in a range of anthropometric techniques. You will also be asked to carry out an independent practical assessment, which will require demonstration of competence in a range of kinanthropometric assessment techniques. The syllabus will begin by exploring both the qualitative and quantitative research paradigm and will enable you to develop further knowledge of how to conduct proper measurement techniques. The module will involve you in the measurement of a number of parameters of kinanthropometry in a laboratory setting. By analysing different types of human size, shape, proportion and composition you will be able to apply physiological and psychological principles to practical situations ranging from exercising for health to physical training for enhanced athletic performance. You will have opportunities to work in groups and will explore a range of methods to examine the reliability and validity of a specific measurement protocol or technique. The overall aim of the module is to equip you with practical skills that enable independent enquiry and analysis.
This module will draw contemporary knowledge of sport, coaching and physical education together and relate issues to current practice. It is designed to enable you to develop critically informed opinions on contemporary issues. The syllabus will include a study of the contemporary social, cultural, political and ethical issues in sport and physical education. You will select research issues which may include for example debates surrounding notions of 'policy', 'inclusion', 'deviance' 'equity' and 'identity' in relation to sport, coaching and physical education. The focus of the module will vary according to changing issues in the sporting world. Building on critical studies in other modules, you will be given the opportunity to explore, research, discuss and critically evaluate a particular contemporary issue from within your chosen theme.
The module aims to develop your understanding of the emotional nature of sports work and the underlying normative practices and actions that are developed in sports workers relationships and practices. The taught session content will draw upon key sociological and educational theory and concepts and empirical studies to make sense of emotional display, emotion management and emotional wellbeing, impression management and micro-politics in sport and physical education related roles. The module content will inform and align with module tasks and assessment. You will be actively engaged in learning through a social inquiry approach via the identification, exploration and reflection upon emotional practices, experiences and actions across a range of sports and physical education roles. Teaching will adopt a combination of lectures, seminars, tutorials and practical sessions. Assessment will adopt a case study approach.
Entry requirements
Application for this course is via UCAS, although there is no formal requirement for UCAS points to access the course (normally GCSE English or equivalent is desirable). As part of your application you will have the opportunity to speak with a member of BGU Admissions staff to resolve any questions or queries you may have

You will also need GCSEs in English Language and Mathematics at grade 4 (previously C) or above (or equivalent).
For International Entry GCSE requirements please contact our Enquiries Team on enquiries@bishopg.ac.uk
How you will be taught
There is no one-size-fits-all method of teaching at BGU – we shape our methods to suit each subject and each group, combining the best aspects of traditional university teaching with innovative techniques to promote student participation and interactivity.
You will be taught in a variety of ways, from lectures, tutorials and seminars, to practical workshops, coursework and work-based placements. Small group seminars and workshops will provide you with an opportunity to review issues raised in lectures, and you will be expected to carry out independent study.
Placements are a key part of degree study within many courses at BGU. They provide an enriching learning experience for you to apply the skills and knowledge you will gain from your course and, in doing so, give valuable real-world experience to boost your career.
Assessment
During the Foundation Year, you will have opportunities to experience a range of formative and summative assessments. These include short-form writing, annotated bibliographies, presentations, digital technologies, reflective journals, and academic essays. All modules involve early, small, and frequent informal and formal assessments so as to be supportive and build confidence, while ensuring development of the core academic skills required for successful study throughout your degree. Assessment strategies are balanced, diverse, and inclusive, ensuring that you will experience a range of assessments to support comprehensive preparation for undergraduate study. You will also have the opportunity for self-evaluation and personal reflection on your own learning progress and development of skills.

Psychology
Assessments in Psychology take place at the end of each module in order for you to demonstrate your understanding of the objectives covered. A wide range of assessment methods is used to support your learning, including portfolios, presentations, displays and examinations and laboratory projects. The Psychology course includes assessments that are designed to develop and refine specific skills that you may well need to draw on as a psychologist, whether that is as specific as demonstrating your practical counselling skills in the Introduction to Psychological Therapies module, or openly argumentative as in the group debate in the Personality and Individual Differences module! Assessments are also designed to enhance your critical thinking and analysis skills – something that psychologists are well known for.
Sport
In Sport, we use a variety of imaginative approaches to assessment that enable you to utilise your strengths. Over the course of your studies, you could expect your assessment to include presentations, multimedia reports, displays, portfolios, individual research projects, essays, exams and work in the Human Performance Laboratory. We recognise that individuals come from a wide range of backgrounds and experiences, and accordingly use a wide range of assessment strategies. You can expect to be guided and supported carefully in your first year, gradually becoming more independent as the course progresses.
Careers & Further study
Psychology
In Psychology we allow you to develop the knowledge and skills which will make you attractive to an employer. Psychology graduates go on to work in a range of sectors including teaching, education or training, local government, health and social work and in areas of industry including human resources management. By the end of this course, you will be ready to apply your knowledge of psychology to the world in which you live, with the necessary workplace skills for a variety of future careers. Future careers for Psychology graduates may include work within Clinical settings, Counselling, Mental Health services, Education and Research.
Sport
In Sport, we prepare you for a broad range of sport-related jobs in such areas as sports development, adventure education, physical activity and health, sports coaching, fitness and recreation industry, school sports coordination, armed forces, youth work and postgraduate research.
By the end of the course, you will have developed a range of practical and transferable skills that are underpinned by excellent subject knowledge, meaning you will be well-prepared for your chosen future career. In the past our graduates have begun careers as sports coaches, personal trainers, as physical education teachers (primary and secondary), in the field of youth work or within sports development.
What Our Students Say
Discover what life is like at Bishop Grosseteste University from our students.
Support
Studying at BGU is a student-centred experience. Staff and students work together in a friendly and supportive atmosphere as part of an intimate campus community. You will know every member of staff personally and feel confident approaching them for help and advice, and staff members will recognise you, not just by sight, but as an individual with unique talents and interests.
We will be there to support you, personally and academically, from induction to graduation.

A lot of student finance information is available from numerous sources, but it is sometimes confusing and contradictory. That's why at BGU we try to give you all the information and support we can to help to throughout the process. Our Student Advice team are experts in helping you sort out the funding arrangements for your studies, offering a range of services to guide you through all aspects of student finance step by step.
Click here to find information about fees, loans and support which will help to make the whole process a little easier to understand.
Undergraduate course applicants must apply via UCAS using the relevant UCAS code. For 2023 entry, the application fee is £27, and you can make a maximum of 6 choices. For 2024 entry the application fee is £27.50.
For all applicants, there are full instructions at UCAS to make it as easy as possible for you to fill in your online application, plus help text where appropriate.
Related Psychology and Sport with Foundation Year news