Welcome to the Graduation Homepage – your central source of information for all matters relating to the Graduation Ceremonies here at BGU. Leanne and Craig are your dedicated Graduation Team and they will be more than happy to answer any questions you have about your ceremony.
It's best to contact the team via email at graduation@bishopg.ac.uk.
Have a look around at the various webpages using the tiles below and if you still can't find the information you're looking for, get in touch with us! We're looking forward to giving you a Graduation Ceremony you won't forget!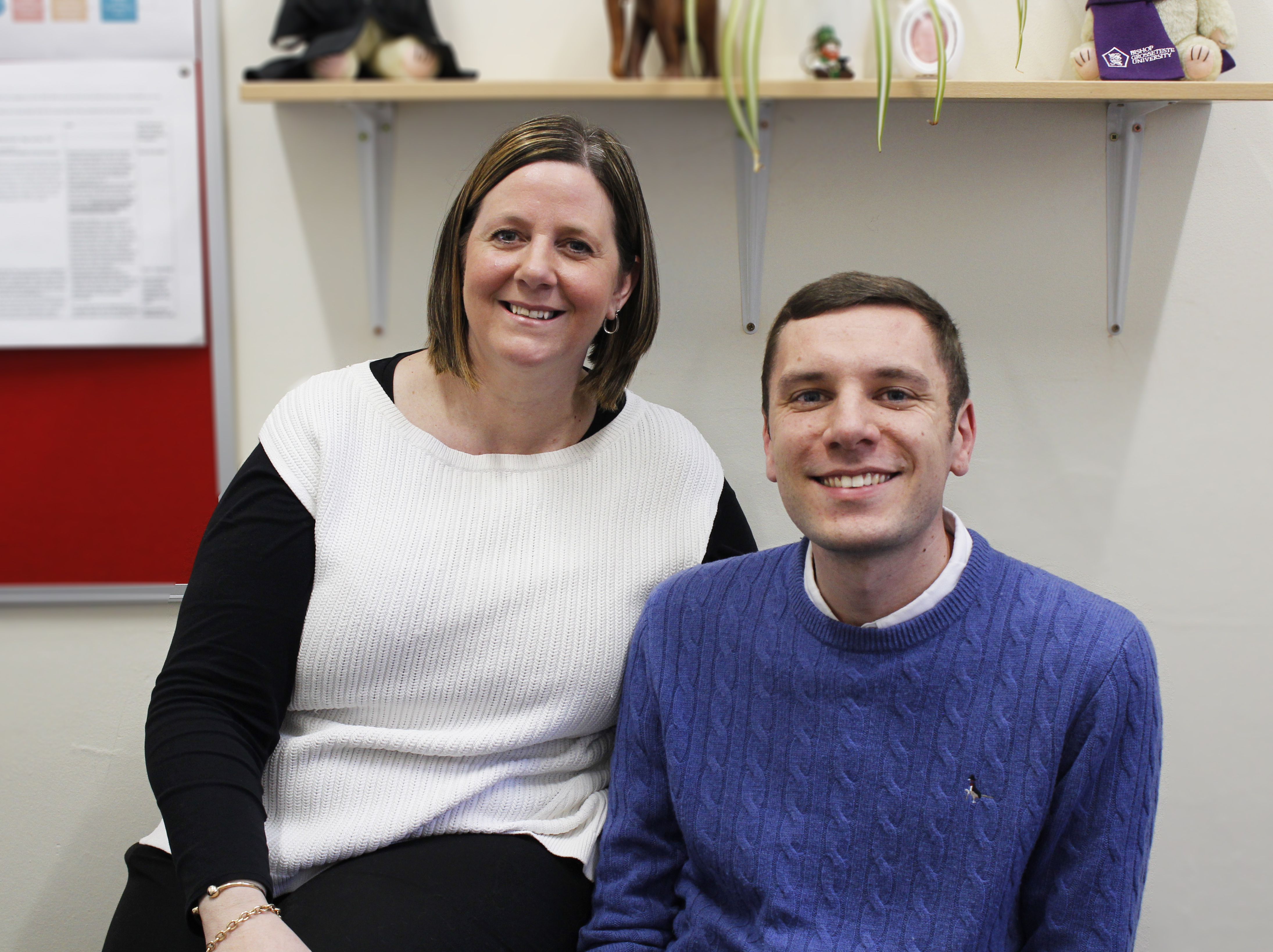 Graduation 2023 will be taking place on Wednesday 26th and Thursday 27th July 2023 - please see below information regarding your ceremony allocation.
Official invitations will be sent via email on Monday 6th March 2023.

Graduation Allocation
BA (Hons) Early Childhood Studies
BA (Hons) Education Studies
BA (Hons) Education Studies and Applied Drama
BA (Hons) Education Studies and English
BA (Hons) Education Studies and History
BA (Hons) Education Studies and Psychology
BA (Hons) Education Studies and Sociology
BA (Hons) Education Studies and Special Educational Needs, Disability and Inclusion
BA (Hons) Education Studies and Sport
BA (Hons) Education Studies and Theology, Philosophy and Ethics
BA (Hons) Health and Social Care
BSc(Hons) Health and Social Care
BA (Hons) Psychology
BA (Hons) Psychology and Applied Drama
BA (Hons) Psychology and Counselling
BA (Hons) Psychology and Early Childhood Studies
BA (Hons) Psychology and Sociology
BA (Hons) Psychology and Special Educational Needs, Disability and Inclusion
BA (Hons) Psychology and Sport
BA (Hons) Special Educational Needs, Disability and Inclusion
BA (Hons) Special Educational Needs, Disability and Inclusion and Applied Drama
BSc (Hons) Education Studies and Mathematics
BSc (Hons) Sport, Coaching and Physical Education
MA in Health and Social Care Leadership
MA in Special Educational Needs and Disability
MSc in Mental Health, Well-being and Resilence
MA in Professional Studies
MA Professional Practice with Children, Young People and Families
BA (Hons) Professional Practice in Special Educational Needs and Disability (Distance-learning Top-up)
BA (Hons) Professional Studies (Childhood and Youth)
BA (Hons) Professional Studies (Early Childhood)
BA (Hons) Professional Studies (Education)
FdA Professional Studies (Childhood and Youth)
FdA Professional Studies (Childhood and Youth) (JNC Pathway)
FdA Professional Studies (Childhood and Youth) (Youth Pathway)
FdA Professional Studies (Early Childhood)
FdA Professional Studies (Education)
BA (Hons) Business, Leadership and Management
FdA Health & Social Care Practitioner
FdA Professional Practice in Special Educational Needs And Disability
FdA Professional Studies (Early Childhood)
FdA Professional Studies (Education)
BSc (Hons) Sports Coaching, Development and Pedagogy
BSc (Hons) Sports Therapy
FdSc Sports Coaching, Education and Development
Certificate in Higher Education: Digital Learning Design
Certificate in Education, Training and Skills
Professional Graduate Diploma in Education, Training and Skills
Certificate in Education, Training and Skills
Professional Graduate Diploma in Education, Training and Skills
FdA Professional Studies (Early Childhood)
FdA Professional Studies (Education)
Postgraduate Certificate in Education (PGCE) Secondary full time SCITT 11-16
Postgraduate Certificate in Education full time core SCITT 5-11
Doctorates and PhD In Education
BA (Hons) Primary Education
BA (Hons) Primary Education with recommendation for QTS
BA (Hons) Primary Teaching with recommendation for QTS (5-11)
BA (Hons) TESOL and Linguistics
MA in Education
MA in Education (TESOL)
Postgraduate Certificate in Education (PGCE) Secondary with recommendation for QTS
Postgraduate Certificate in Education (PGCE) Secondary
Professional Graduate Certificate in Education (pGCE) Secondary with recommendation for QTS
Professional Graduate Diploma in Education, Training and Skills
Career Development Professional Apprenticeship
BA (Hons) Applied Drama in the Community
BA (Hons) Archaeology and History
BA (Hons) Business
BA (Hons) Business, Leadership and Management
BA (Hons) Drama
BA (Hons) English and History
BA (Hons) English Literature
BA (Hons) History
BA (Hons) History and Theology, Philosophy and Ethics
BA(Hons) Military History
BA (Hons) Sociology
BA (Hons) Theology, Philosophy and Ethics
Postgraduate Diploma (Strategic Leadership)
MA in Business Administration (Senior Leadership)
MA in English Literature
MA in Social and Cultural History
MA in Theology and Religious Studies
Postgraduate Certificate in Special Educational Needs Co-ordination with the National Award for Special Educational Needs Co-ordination
Postgraduate Certificate in Education (Primary) with recommendation for QTS
Postgraduate Certificate in Education (Primary)
Professional Graduate Certificate in Education with recommendation for QTS