The Act also notes that universities must seek to balance this duty with their commitment to freedom of speech and the importance of academic freedom.
The University has taken a risk-based approach in discharging its duties under the Act.
The University is committed to:
protecting the principle of freedom of speech
safeguarding its students from the risks of radicalisation and terrorism
The University's Prevent policy sets out the University's response to the Prevent statutory duty, introduced in September 2015:
University staff and students wishing to report any concerns in line with the Prevent Duty, should contact the Student Advice team at studentadvice@bishopg.ac.uk.

Any other (external) persons wishing to report concerns in line with the Prevent Duty, should report them here:

Refer someone to the Lincolnshire Police Prevent Team
or to report online terrorist and extremist material click the red button below.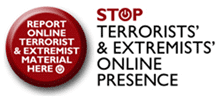 The 'Run Hide Tell' campaign is the Home Office's official campaign advising on how to respond to a terrorist situation. We recommend you watch the following 'Stay Safe' film to familiarise yourself with current guidance on how to ensure your safety and notify others in the event of you witnessing a hostile situation:
Please also see the following leaflet summarising the Run Hide Tell guidance:
Digital safety during COVID-19
The below PDF provides advice and guidance on keeping yourself and your loved ones safe online during the Coronavirus pandemic.