All the fun of the fair arrived at Bishop Grosseteste University (BGU) on Wednesday 20th November in the form of Carnival 2019, a well-being event sponsored by the Centre for Enhancement in Learning and Teaching (CELT).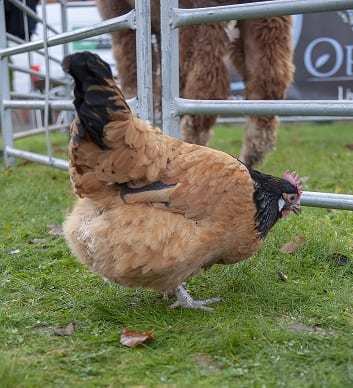 To brighten up a damp and rainy November, the CELT team in collaboration with the SU organised everything from a chocolate fountain, indoor games, limbo and candy floss to cookie decorating, giant mindful colouring in and the adorable hen Gemma who was kindly brought in by 'OrionTree' alongside a pair of alpacas and became a huge hit. The animals from OrionTree regularly visit schools throughout the year and provide a fantastic, calming experience for the children and students who interact with them.
Over 150 people attended the jamboree, which put lots of smiles on not only staff and student faces but also on children from local specialist school, St. Francis, who popped in to enjoy all of the activities that ran in the Students' Union (SU) between 12pm-3pm.
Linette Wallace, Centre Coordinator at CELT, explained why the carnival day was such an important activity in the University calendar:
"Part of the rationale behind hosting such an event for our students, is we recognise a mid-semester dip in the first term through a rise in referrals to Student Advice. Students can sometimes feel an increase in anxiety levels with both the assessment period and the December break and this provides an opportunity for them to get together and just have a few hours of fun."
These aims were clearly recognised by BGU's student community with Jordan Fane, Bishop Grosseteste University Students' Union Vice President, praising the event:
"The turnout for this year's carnival was brilliant and it was great to have so many students visit the Students' Union to engage with all the different activities on offer. The SU are hugely thankful to CELT for sponsoring this event which has become increasingly popular and although I was kept busy supporting the event on the day, I also enjoyed having a few games of chess myself!"
CELT, guided by the well-being steering group, will continue to build upon the well-being successes of last year and are fully committed to creating and maintaining a positive and mindful University here at Bishop Grosseteste. If you feel you could support some of our well-being initiatives, please do not hesitate to get in touch E: celt@bishopg.ac.uk