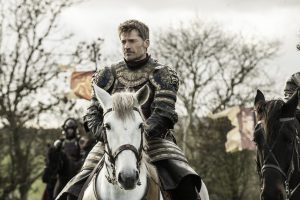 England's first civil war in the 12th century raged for 20 years and changed the physical landscape for decades.
The conflict, in which royal cousins Matilda and Stephen fought for the throne of England following the death of Matilda's father King Henry I, outdid TV's Game of Thrones series for savagery and treachery.
Those are the conclusions of two new books about the period which are the result of archaeological research by a group of academics including Dr Duncan Wright, Senior Lecturer in Archaeology and Heritage at Bishop Grosseteste University.
During the war known as the Anarchy, churches were fortified, a network of castles was constructed to hold back rebels, and many areas of the country were laid to waste.
Rival mints made coins in different territories and landowners buried hoards of treasure to save their wealth from looters.
The Isle of Ely in Cambridgeshire was transformed into a desert, according to contemporary chroniclers, while Wallingford on the Thames became one of the most besieged places in the nation.
War broke out after the death of King Henry I in 1135. His daughter Matilda claimed the throne but her cousin, Stephen of Blois, had himself crowned King of England at Westminster Abbey. Matilda launched a campaign to win back power, and soon the English countryside was militarised as the two sides and their allies fought battles that raged across England.
The struggle has parallels with the fictional Game of Thrones series in which Yara Greyjoy claims the throne of the Iron Islands when her father dies. However, the throne is seized by her uncle and Yara builds alliances with other key characters in order to regain power.
Another parallel can be seen during a key episode of Game of Thrones in which young King Joffrey dies after being poisoned at a feast. The incident echoes the demise of King Stephen's only son Eustace, who is said to have died at a feast, possibly from choking or poisoning. An agreement was reached with Stephen that he could remain as King, but that Matilda's son Henry would inherit the throne when he died.
"The Anarchy was a gruelling conflict which left its mark on the modern landscape," said Dr Duncan Wright of BGU.
"The most significant thing we can still see today is siegeworks, because this conflict was characterised by devastation of the landscape and protracted sieges rather than by set-piece battles.
"Besieging armies would build a smaller castle outside an enemy castle to prevent the movement of men and supplies. Law and order had broken down in England and everyone was looking out for themselves: barons would build their own castles and mint their own coins, all of which was illegal.
"The chronicles at the time even talk about churches being fortified, which was seen as an abhorrent thing to do – the house of god turned into a house of blood.
"An unusual aspect of the Anarchy was the fact that in two decades there were only two big pitched battles, and one of these was at Lincoln in 1141. King Stephen besieged Lincoln Castle and was in turn attacked by Matilda's half-brother. Stephen was captured and imprisoned for a year in Bristol, and then Matilda's brother was captured and so there was a prisoner exchange.
"It was all very ruthless and familial – in many ways just like Game of Thrones."
The team of researchers, led by Professor Oliver Creighton of the University of Exeter, spent two years examining the impact of the war on the landscape of England. They studied remains at 12 sites, including castles and settlements, and re-analysed existing archaeological finds, such as coins, armour and weaponry.
They were the first experts to assess the physical impact of the Anarchy on England's landscape. Until now historians have mainly relied on chronicles and charters written at the time.
The research, which took place from 2013 to 2015, was funded with a grant from the Leverhulme Trust.
"What we discovered was that this was a time of violent upheaval, and the conflict has left its scars on the physical landscape even 800 years later," said Dr Wright.
"Until this time royal power had always been very centralised, but now the aristocracy was far more mobile and better able to craft their own familial images and develop their own power.
"Royal power was weakened, the law had broken down, and powerful people were able to take advantage of that and carve out their own niche, setting in train the development of the English aristocracy."
To find out more about studying for the BA (Hons) degree in Archaeology and History or the MA in Community Archaeology at BGU, call 01522 527347 or email enquiries@bishopg.ac.uk.