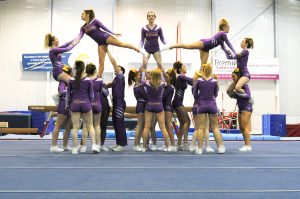 Our partnership with Lincoln City Football Club benefits so many of our students, from coaching from the Cowley brothers for our Sports students to creating new opportunities for our cheerleading squad, the BGU Lions – it's been a great year for everyone!
The BGU Lions have had fantastic opportunities to perform in front of crowds of around 10,000 fans at Sincil Bank, not to mention live on BBC1 in the third round of the FA Cup. But it hasn't stopped at the performance opportunities – the financial support has been an incredible opportunity for them.
Cheerleading is an expensive sport to participate in, and BGU's links to Lincoln City FC have offered some much needed financial support for the Lions. Louiscia Mcleod, President of the BGU Cheerleading Society, explains, "Thanks to our links at Lincoln City FC, the BGU Lions have been able to attend a national competition in which we placed second. It would've been tough (for us to attend) if not for their help."
Along with this support the link to the football club has allowed the BGU Lions to perform at Sincil Bank in front of thousands of fans and huge television audiences. Louiscia says, "It's an incredible experience! The fans are so lively and supportive. The atmosphere really just makes the whole night."
Along with performing at more Lincoln City games this season, the BGU Lions are focussing on the British Cheerleading Association (BCA) University Nationals on 14 April in Telford, where they're hoping to bring back a trophy or two! On top of that, they will also be taking part in a showcase here at Bishop Grosseteste University, teaming up with Drama and other societies for a night of entertainment.
Have you been inspired by the BGU Lions to take up cheerleading? Louiscia advises, "it's not all poms poms, glitter and bows. A lot of hard work and dedication is required. It's physically and emotionally demanding, you don't have to have any ability before joining as the team and coaches are there to support you and we all work together.
"There's no better feeling than coming off the mat after smashing the routine. Coming from last season with a second place win at our first competition was just incredible. When you join cheerleading, you don't just get a great team of talented athletes, you gain a family."