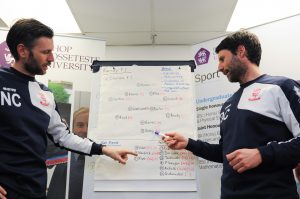 Bishop Grosseteste University's (BGU) ongoing sponsorship of Lincoln City Football Club is providing students with inspiring opportunities according to a Senior Lecturer in Sport and Education.
The Imps are enjoying a memorable season. Not only have they become the first non-league team in 103 years to reach the quarter-finals of the FA Cup, but they are also within touching distance of returning to the Football League for the first time in six years. The season is also proving to be a memorable one for BGU students as the university's partnership with the club is proving beneficial.
Rafe Elliott, Academic Co-ordinator for the new BSc (Hons) Sport, Coaching and Physical Education degree at BGU, said, "We have a fantastic partnership with Lincoln City that gives opportunities for our undergraduate sport students to work alongside elite performers and a professional club across all three years of their studies."
Opportunities for students include exploration of coaching principles, observation of training sessions, an overview of how the club is managed, an introduction to the commercial/business aspects of a professional club, getting an insight into community education projects and opportunities to carry out work placements and research at the club.
BGU sports students also had the unique opportunity to be coached by the Lincoln City manager with a session led and delivered by Danny Cowley in December 2016.
Rafe said the session "was both insightful and inspiring and was based around key coaching principles. It helped to reinforce some of the learning objectives of the module the students were studying.
"The practical demonstrated the intensity and focus of a structured conditioning/coaching session at an elite level. It was fascinating to learn more about the type of data collected and the methods of analysis employed with the aim of creating marginal gains."
Chelsey Grayson, a first year student, thought that "the session gave us really good insight into the daily life of a coach and also all the planning and commitment that goes into it. Danny and Nicky Cowley made sure that all players received feedback whether good or bad and also delivered coaching points while in training. It was good to see a manager/coach in action and will help a lot with my studies and assignments."
Our students were not the only ones who enjoyed the session. Danny Cowley himself welcomed the opportunity.
He said, "Coming from a teaching background like we have it's been great to be able to keep our hand in. Also it's a great opportunity for us to give something back, which is important for us. It's a profession that's very close to our hearts and the opportunity to go back and speak to young, aspiring teachers and tell them what a great profession it is has been something that we've obviously enjoyed."
Have you been inspired by Danny and Nicky Cowley and the incredible success of the Imps this season? Find out how you could follow in their footsteps with our new Sport, Coaching and Physical Education degree.