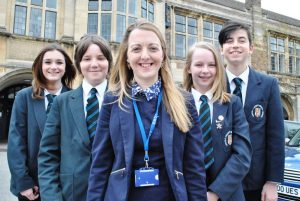 Bishop Grosseteste University in Lincoln is giving its backing to a national campaign to address a shortage of specialist RE teachers.
The university is supporting a campaign by the Religious Education Council of England and Wales (REC) to encourage graduates and career changers to train as RE teachers.
The 'Beyond the Ordinary' campaign, supported by universities and colleges that offer specialist RE PGCE courses, highlights the benefits of a career in RE teaching and raises awareness of the availability of bursaries to cover training costs.
RE specialists do not need to have a theology degree – the PGCE course is open to graduates from a variety of academic disciplines and from diverse backgrounds.
Despite two years of campaigning by the REC, which created a surge in RE PGCE applications, there is still a shortage of qualified teachers to teach RE in our schools.
Meanwhile demand for RE from pupils continues to rise: in 2016, the number of pupils in England and Wales taking the GCSE Religious Studies full course was at its highest since 2002.
Mark Plater, Subject Co-ordinator for PGCE Secondary Religious Education at BGU, said: "Last year the offers we made for places on the secondary PGCE in RE at BGU were up by a quarter on the previous year. This year applications have been steady and some of those applying are exceptionally strong candidates. Today I interviewed someone who was as good as any I have interviewed over the past 12 years.
"One of my recent interviewees said he was attracted to RE because it seems such a dynamic and changing subject: always in the news, and forever shifting in response to the landscape of our modern world. It's fascinating!"
Roxanne Fearns, Head of Religious Studies at Lincoln Christ's Hospital School, qualified as a teacher at BGU – as did her entire RE department of four teachers!
"I love my job – what other subject allows you to enable young people to think and reflect about the world around them and develop their appreciation of different beliefs, religions and practices and the part they play in the today's diverse world?" she said.
"At a time when religion is often misunderstood it's important for young people to be able to study RE to increase awareness of different beliefs. Because the media sometimes portrays negative images of religion we need teachers who can present a different view.
"The PGCE at BGU equips you to be able to engage and enthuse young people into the study of religion and philosophy and to develop their critical thinking skills.
"The university has really good links with schools, so trainee teachers can spend more time in school. Some training establishments just ask schools if they will take a student, but BGU specifically picks schools based on how highly they rate the department."
To find out more about BGU's Theology courses or the Secondary PGCE Religious Education qualification visit www.bgu.ac.uk/courses.