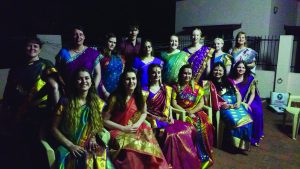 A journey of learning, discovery and friendship for our Special Educational Needs and Inclusion Students.
As University field trips go – this has to be one of the best around. Eleven students studying Special Educational Needs and Inclusion (SENI) and four members of staff from Bishop Grosseteste University spent ten days in India learning how trainee teachers are educated in Tamil Nadu and visiting special education schools.
At BGU, in addition to developing expertise in specific subject areas, students are also encouraged to develop a global outlook, strong academic practice, and the skills, qualities and attitudes needed for success in their future work and life. These are described as the BGU Graduate Attributes.
Dr Claire Thomson, Head of Centre for Enhancement in Teaching and Learning (CELT) at BGU. said "there is little doubt that opportunities like this broaden our students' horizons and foster a level of cultural understanding that will serve our students throughout their careers."
As part of the trip, BGU students had the chance to visit teacher-training colleges and engage with both undergraduate and post-graduate students enrolled on teacher education programmes. Through their interactions, both sets of students were able to discuss teaching methods and the educational systems in their own countries - and share information about their own lives.
The visit also involved visiting a number of special schools, including a school for the blind, a school for the deaf and a school for students with learning disabilities. The BGU students led activities in each of these settings tailored to the students' needs and greatly enjoyed the opportunity to put the skills they have learnt on placement in the UK into practice overseas as well as having the opportunity to gain real world experience, to back up their theoretical learning.
"It was a once in a lifetime experience that will remain with us all forever" said Claire McGovern, a second year SENI student.
Leader of the visit, Dr Julia Lindley-Baker said: "The University has established very positive relationships with the Southern India Diocese, who welcome and support our student study visits. Students continue to benefit from the warm hospitality we receive which facilitates opportunities to experience, understand and embrace cultural differences".
To give something back to their hosts in India the students took over a number of gifts for the institutions they visited and presents for the children in the special schools, including gifts for the girls living in a church-supported orphanage. Special Education Needs and Inclusion student Laura Hakner had, through a range of charitable events organised within her village in East Yorkshire, raised over £800 to be given to a range of deserving causes.
It wasn't all work, work, work however. The students were thoroughly entertained during their visit and enjoyed traditional and modern dance demonstrations, mime performances, and of course, delicious meals and refreshments – they even got to meet the Bishop of Tirunelveli Rt. Rev. J.J. Christdoss. It wasn't all one-sided either with our students doing their best to entertain their hosts with dance moves of their own; leading a conga line of over 500 students in the Sarah Tucker College in Tirunelveli as part of a programme of entertainment.
The momentum has not diminished since the students return to the UK either; one student is running a Students Creating Change project - as part of our acclaimed student engagement programme – to raise enough money to fund a student in India through their three-year BA Education programme. If you would like to contribute to this campaign, please contact Helen Waters-Marsh, Student Engagement Facilitator at helen.waters-marsh@bishopg.ac.uk
Helen was fortunate enough to accompany the students on their trip to India thanks to the support of the Centre for Enhancement in Teaching and Learning (CELT centre) – which now sits at the heart of the BGU campus. CELT is committed to enhancing learning, teaching and the student experience and supports staff and students in terms of learning development, digital learning and student engagement projects.