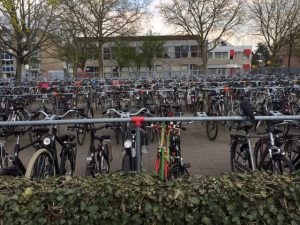 BGU lecturers Pat Beckley, Yvonne Hill and Tony Luby recently embarked upon an exchange visit to the Netherlands visiting schools in Amsterdam and Rotterdam.
In their first visit to the country, they found excellent further education practice at ROC van Amsterdam zuid-oost in Amsterdam where students received personalised learning based on their workplace.
Outstanding classroom practices and relationships based around Hattie's Visible Learning were displayed in Rotterdam's Emmaus primary school.
Tony and Yvonne met with the 16 MA students who will be coming to Lincoln to study at BGU this October. Yvonne said the MA Education course at the Amsterdam University of Applied Sciences has given her "food for thought" - and with 14 of the students being primary teachers BGU should be able to give them a good experience for their third year stay in the UK.
Tony Luby said that "the future looks orange" as he discussed during the visit various opportunities for building international relationships with schools in the Netherlands. The CEO and Principal of the Forge Trust expressed interest in taking forward this scheme which could benefit schools local to BGU.