The founder of a social enterprise based at Bishop Grosseteste University (BGU) in Lincoln met the newly engaged Royal couple in Nottingham this month.
Lizzie Jordan, founder of BG Futures-based social enterprise Think2Speak, was invited to meet Prince Harry and Ms Meghan Markle at the Royal couple's first public engagement together.
The visit to Nottingham on World AIDS Day (1 December) honoured lives lost to HIV. It also marked the medical progress made in the fight against the virus and acknowledged individuals and organisations working in the sector.
Lizzie Jordan, who became a mother, a widow and discovered she was HIV positive all within 18 months more than a decade ago, was amongst the invited guests. She was one of the first to meet the couple to share the work Think2Speak does with young people. Lizzie's son Jay and fellow Think2Speak directors Alan Searle and Matthew Stringer also attended the event.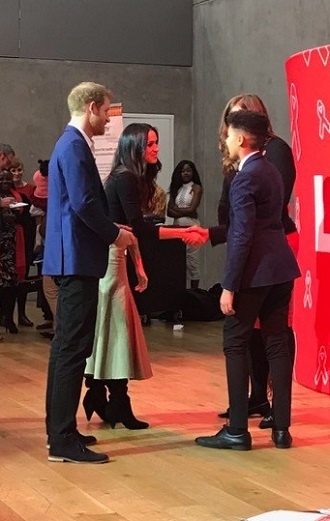 Speaking after the event Lizze said, "It's testament to Harry that he's really following in his mother's footsteps and flying the flag for things that many others would rather shy away from.
"It's just a shame that 30 years on we're still having to bang the drum and talk about this issue. I go into schools across the country every week and the young people I meet don't have the awareness of the Diana era.
"We have got a generation where HIV isn't on their radar and Think2Speak are working hard to change that!"
The Royal couple are understood to have wanted to make the Terrence Higgins Trust World Aids Day charity fair the key moment for their first outing, after Prince Harry previously attempted to help break the stigma by taking an HIV test in public.
Lizzie's son Jay said, "It was funny because Meghan recognised my Mum and knew our family's story from the BBC One documentary The Truth About HIV, that Prince Harry was also in.
"Harry asked me what I knew about HIV and if I was proud of my Mum. I was so proud to be able to talk to them both about the work that she does."
Becky Goodman, Enterprise Development Manager at BG Futures said, "We are extremely proud of what Lizzie is achieving with Think2Speak, and this is testament to her dedication and drive."