Bishop Grosseteste University's further education teacher training has been praised by Ofsted for having a "clear vision and an extremely strong commitment to their engagement with partners in the FE and skills sector".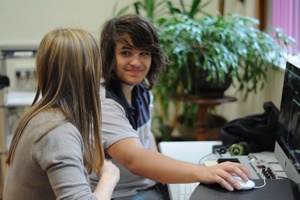 The report, published on Thursday by Ofsted, follows a highly successful Ofsted inspection of early years, primary and secondary provision at BGU in Lincoln in December 2015.
In this latest report of FE teacher training the inspectors found that "the university has ensured that their strategic vision and strong partnership development prepared capable, confident and skilled practitioners".
It added that BGU's "leaders show the university's positive response to the local and national need for skilled practitioners in FE, as part of their wider commitment to professional and career development".
Nationally the FE and skills sector has experienced considerable and continuing change, and inspectors commended BGU for reviewing, restructuring and extending its provision.
The "dynamic and well considered actions" of leaders have created a strong partnership, reinforced by the "dedication and enthusiasm" of tutors and mentors, the report said.
Inspectors found that the institution, which has been training teachers for over 150 years, continues to lead innovation which flourishes in the "safe learning environments" created by the partnership. Trainees "are not afraid to challenge themselves by trying out new and innovative ways to help their learners succeed".
The Ofsted inspection took place in May 2016.
Dr Nick Gee, Head of the School of Teacher Development at BGU, said: "We are delighted by this report which once again highlights our clear vision, strong leadership and total commitment to partnership working.
"To have secured 'good' OFSTED judgements in all age phases (early years, primary, secondary and FE) demonstrates the true depth and breadth of our expertise and places us amongst a very exclusive national pool of universities."
Matt Shough, Head of Higher Education at New College Stamford, said: "We are delighted that the report has recognised the work that the university and colleges have done in providing high-quality teacher training in the further education sector.
"We are particularly pleased that the inspection recognised the care, support and challenge that the trainees receive from our tutors and mentors and consequently the high expectations set for them as emerging teachers."
Sally Reeve, Teaching and Learning Manager at Lincoln College Group, said: "We are immensely pleased to see that the hard work and dedication undertaken by the partnership and the commitment of the staff and trainees involved has been recognised by Ofsted.
"We are also extremely grateful for all the support BGU has given in the preparation for the inspection and during it. This is a great team result with a positive impact on our trainees' confidence."
To view the entire report visit the Ofsted website here.
If you're wishing to pursue a career in the education, training and skills sector please see our Certificate in Education, Training and Skills or Professional Graduate Diploma in Education, Training and Skills.